Got stuff you'd like to sell? But not enough stuff to host your own yard sale?


RESERVE YOUR FREE SPACE AT JUBILEE COMMUNITY CHURCH'S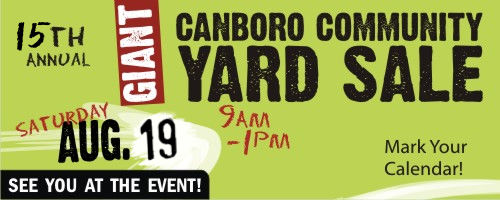 AND BENEFIT FROM THE TRAFFIC OF A GIGANTIC YARD SALE!

Date: Saturday, August 19, 2023


Time: 9am - 1pm (rain date: TBA)
Location: Jubilee Community Church [ 7868 Hwy 3, Dunnville ON ] 


IMPORTANT YARD SALE INFORMATION
We have lots of space, so you may reserve space for multiple tables (please indicate how large a space you will need and how many tables you will be bringing). 


You will be responsible for selling your own items and manning your own table. 


You will be responsible for bringing your own items to the sale on the day of the event and bringing home any items that you do not sell (We cannot store items here). 


The sale will run from 9:00 am till 1:00 pm. You may start setting out your items any time after 7:30 am.
Any sale negotiations made are between you and your customer. Jubilee Community Church will not be responsible for mediating sale agreements. Also you are responsible to ensure that anything you sell passes Health Canada Regulations.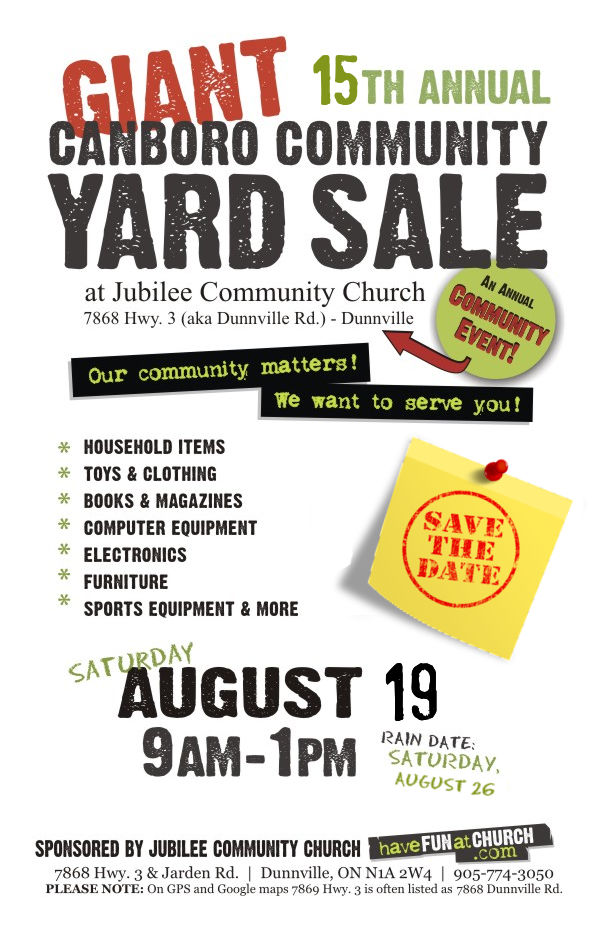 Yard Sale Registration
Indicating in the form below what product categories your sale items fit into will make advertising the sale more informative for the public. Plus, we get dozens of calls before the event from people looking for particular items, so noting any unique or rare items is also a good idea.
We will have refreshments available for all those running and manning tables. Please indicate in the form below, how many will be manning your table(s). 
We will call you to confirm your registration. If you don't receive a call from us within 3 business days of submitting your form, please assume that the form may not have processed and either call us at 905-774-3050 or fill in the form again. 

YARD SALE PRICING TIPS
Put a price on all of your items and eliminate the need to answer, "how much do you want for this?" every 2 minutes.


Price items at about 1/4 or 1/3 of what they would cost new, except when they are out-of-date, broken, or appear well worn. In that case you will have to price CHEAP in order to sell.


Adult clothing should be priced CHEAP. Shoppers won't spend a lot on things they can't try on or return. Baby and children's clothing usually sells well.


When pricing keep in mind that you can always bring the price of an item down, but never back up. That said, don't over price items either.


If you're short on time, group like things together and make signs such as "all jewelry 50 cents a piece" or "anything in this box $1.00 each", or "any item on this table 2.50 each". If you have a lot of one type of item, you may even want to offer a bargain price like "magazines .25 each or 5 for $1" or "everything in the box is yours for $5".


Try not to put tiny price tags on large items. Make it easy for your customer to find the price.


For bigger ticket items with flaws, note the truth about the item on the tag. Index cards are great to use for this. Example: Camping Stove $10 - 2 years old - only one burner works - as is.


When selling items like books or CDs, arrange them in such a way that the titles can be easily read by the customers.


Consider making your stuff as attractive as possible before the sale without spending too much time on it. A deflated ball will sell faster if you add air. Putting a used battery in an electronic device or toy will also increase your odds of selling the item at the price you want for it.


Have Fun! See You at the Sale!